VIRTUAL NOTARIZATION IN
3 EASY STEPS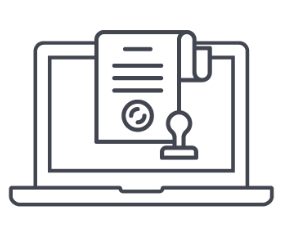 Click the "Get Started" button.
Create a NotaryCam© account and confirm your email address.
Follow the prompts through the verification email and have your 16-digit code ready to schedule your notarization.
Frequently Asked Questions
What are your hours of operation?
Notaries are available 24/7, 365 days a year.
What are the system requirements?
NotaryCam recommends signers use Google Chrome browser on a laptop or desktop computer (Mac
or PC) with a webcam. NotaryCam also supports the latest versions of Firefox and Safari
browsers.
What items are required at the time of meeting?
Valid government-issued ID or passport.
What file type is required to submit a notarization?
PDF or Word document.
What if I have been waiting for an extended period of time?
You can choose to schedule an appointment in the waiting room if the wait is extended.
How can I submit a request for multiple signers?
Once the first signer completes ID verification, they will be asked if they would like to
meet on demand or schedule an appointment. If they choose to meet on demand, the first
signer will be put into a waiting room and a notification will be sent to the second signer
via email for them to join the first signer at that time. Or, after ID verification, if the
submitter chooses to schedule an appointment, the submitter and the second signer will get
an email confirmation with the appointment details to join at a later date.
Will I receive a hard copy?
No, NotaryCam is an online notarization platform and will provide an electronic copy of their
documents. The signing parties will be able to download the signed and notarized copy of the
documents from their NotaryCam account once completed.
Are notary stamps from other states still valid?
Most states have interstate recognition laws which allow for the recognition of a
notarization performed by an attorney in another state and should be accepted. However,
please be aware that not all states have their own RON (Remote Online Notary) laws, and some
states may not allow certain documents, such as wills, codicils and election documents, to
be executed through RON.
Can you provide us with witnesses if needed?
Yes, NotaryCam can provide in-house witnesses.
How do I e-sign if I don't have a signature pad or tablet?
The NotaryCam platform will generate a digital signature for you. You also have the option to
upload a photocopy of your handwritten signature. The signer cannot sign the document before
they meet with the notary. The signer will sign the document online, during the signing
session. The signer does not need any special equipment to e-sign, just a keyboard to type
their name.
How do I submit my ID?
Follow the prompts to take a photo of your ID to submit for verification. Please ensure that
this picture is not a scanned or photocopy to successfully pass the analysis.
Tips for an easier ID verification:
Photo of ID/passport features all four corners without glares or shadows
Identification must be active
Passport must be original and signed
Photo submitted for ID verification must be well lit and clearly show face