[av_layerslider id='14'] [av_one_half first min_height=" vertical_alignment=" space=" custom_margin=" margin='0px' padding='0px' border=" border_color=" radius='0px' background_color=" src=" background_position='top left' background_repeat='no-repeat' animation=" mobile_display="] [av_textblock size=" font_color=" color="] [/av_textblock]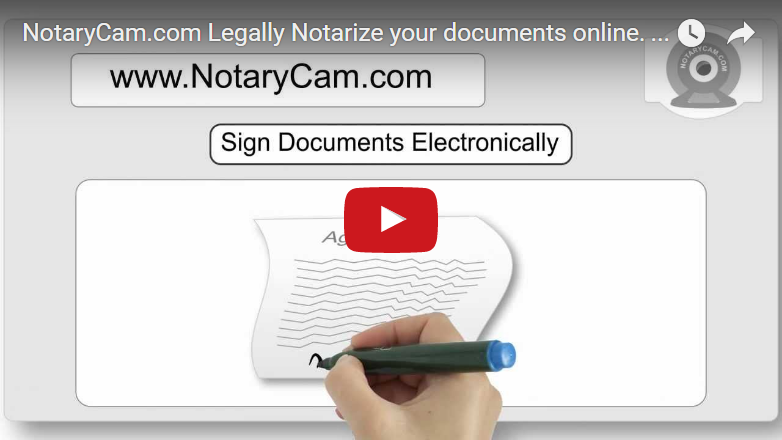 [av_button label='Lets Get Started' link='manually,http://notarycam.com/cn-lets-get-started' link_target=" size='small' position='left' icon_select='yes' icon='ue832′ font='entypo-fontello' color='red' custom_bg='#444444′ custom_font='#ffffff'] [av_button label='FAQ' link='manually,http://notarycam.com/cn-faq' link_target=" size='small' position='left' icon_select='yes' icon='ue81c' font='entypo-fontello' color='green' custom_bg='#444444′ custom_font='#ffffff'] [/av_one_half] [av_one_half min_height=" vertical_alignment=" space=" custom_margin=" margin='0px' padding='0px' border=" border_color=" radius='0px' background_color=" src=" background_position='top left' background_repeat='no-repeat' animation=" mobile_display="] [av_textblock size=" font_color=" color="]
How It Works
It's simple, go to NotaryCam.com, upload your document, connect to a live Notary face-to-face on a webcam, and electronically sign your document. The notary will verify and confirm your identity and apply their eNotary seal.
Upload your document.
Call/Request a live eNotary.
eNotary will confirm your ID.
eSign your document.
Notary will eNotarize your document.
Documents are routed and stored securely.
[/av_textblock] [/av_one_half] [av_hr class='default' height='50' shadow='no-shadow' position='center' custom_border='av-border-thin' custom_width='50px' custom_border_color=" custom_margin_top='30px' custom_margin_bottom='30px' icon_select='yes' custom_icon_color=" icon='ue808′] [av_heading tag='h3′ padding='10' heading='Is NotaryCam's online notarization legal?' color=" style='blockquote modern-quote' custom_font=" size=" subheading_active=" subheading_size='15' custom_class="][/av_heading] [av_textblock size=" font_color=" color="]
On July 1, 2012, the Commonwealth of Virginia signed into effect bills SB 827 and HB 2318. This groundbreaking legislation authorizes Virginia Notaries to legally notarize any signature within any state with Video-Audio technology.
Read the complete legislation here
[/av_textblock] [av_heading tag='h3′ padding='10' heading='Is it Secure?' color=" style='blockquote modern-quote' custom_font=" size=" subheading_active=" subheading_size='15' custom_class="][/av_heading] [av_textblock size=" font_color=" color="] Yes, NotaryCam.com uses secure, 3rd Party Verification for identity and records both the Video-Audio portion of the ceremony which is kept securely in an online depository for future references.
[/av_textblock] [av_heading tag='h3′ padding='10' heading='What is the difference between a traditional notarized document and a online notarized document?' color=" style='blockquote modern-quote' custom_font=" size=" subheading_active=" subheading_size='15' custom_class="][/av_heading] [av_textblock size=" font_color=" color="] The only differences between the two are the tools that are involved. All notarial acts remain the same except the introduction of electronic signature, electronic notary stamps, and Video-Audio technology. Personal appearance, positive identification, and required notarial acts are still utilized with online notarization.
[/av_textblock] [av_testimonials style='grid' columns='2′ interval='5′ font_color=" custom_title=" custom_content="] [av_testimonial_single src='3650′ name='Brandon Venier' subtitle=" link='http://' linktext="] "I am deployed and completely forgot to put one of our accounts on the existing POA. So my wife needed one to cover what the other didn't, and of course I'm around the world and everyone was asleep. This saved so much time and was so simple. Would totally recommend this to any of my soldiers in a pinch."
[/av_testimonial_single] [av_testimonial_single src='3650′ name='Dustin Picciuolo' subtitle=" link=" linktext="] "I received service from Kathleen and she was very professional and quick. This is the first time I've used this service, and in the past have had to drive to a local bank and wait for what seemed like an hour to see a notary to sign my documents. This was quick and painless, and I was able to get my document signed in no time! And for the convenience, $79 is well worth it. Thank you so much for offering this service."
[/av_testimonial_single] [/av_testimonials] [av_hr class='default' height='50' shadow='no-shadow' position='center' custom_border='av-border-thin' custom_width='50px' custom_border_color=" custom_margin_top='30px' custom_margin_bottom='30px' icon_select='yes' custom_icon_color=" icon='ue808′ font='entypo-fontello']